Hmmm, lot of work to do. Rest day? Maybe not…
Update on iPhone video problems
Well, after spending 90 minutes on the phone with Apple Support last night, and getting nowhere, I figured out how to get the photos from my iPhone, to my computer. The new method not only works reliably, but it's very fast. So, I'm very happy to be using the iPhone again, rather than the backup camera.
Breakfast
Well, we're now in a Laotian hotel, and with its French heritage, you might imagine that they pay attention to the food. And that was the case at this morning's breakfast. I was able to get coffee, fresh bread, an Omelette, Croissants, chicken sausage, and a few other things. It was absolutely wonderful.
In addition, in our rooms, we're given a suply of Lao Coffee, and a French Press. I'm telling you, I could really come to love this place.
Blog updates
With a fast internet connection, no restrictions on services, access to Google and Youtube, I was ready to rock. And rock I did.
I spent the first few hours updating posts, uploading videos, fixing issues with my PC, etc. But, at about 11:00 AM, I left the hotel, and headed out for a walk, and to take care of errands.
Errands
I needed to get my riding pants washed. I had been washing them in a tub or shower for the past few weeks, and while that's a great way to get some of the crud, and sweat out of them, it's not real washing. So, I took them to a local laundry service, where they were washed, and hung dry for $1.50 USD. I also needed to see about buying a sticker for my bike, to represent that I had spent time in Luang Prabang. So, I purchased a sticker. And finally, I wanted to be sure to give my body the best possible recovery, so that I'm without any muscle pain or repetitive stress, so I booked a massage.
Pure indulgence
Last night, at 6:30, I enjoyed a Lao massage, which is much like a Thai massage, only it is theoretically less intense. In fact, the guy that did the massage was a young kid, with strong hands, and good knowledge. He managed to create pain in just about every muscle group that I have.
And so, you might think it indulgent when I booked another massage this morning, but gimme a break. Riding the bike tends to cause us to be tense at times, and to hold our body in the same position for long periods of time. So, given the amount of lactic acid I discoverd in my muscles last night, I figure it would be good to keep flushing it out.
Last night's massage was supposed to be $30 USD for one hour. That is approximately 300,000 KIP. The hotel gave me a discount, due to our large group, and only charged 250,000 KIP.
Located 150 feet from the hotel entrance is another massage spa, who will do the same thing for 100,000 KIP. So, I booked a massage, and found that about 10 feet away was Stephan, who was also getting a massage for 100,000 KIP. The massage was every bit as good as the more expensive one. So, imagine my surprise when I found another massage spa, just 2 blocks away, who were offering 1 hour of Lao massage for only 60,000, or about $6.00 USD.
In any case, I feel much better, and don't have any obvious repetitive strain feelings, but I still need to stretch my back tonight, and again tomorrow morning.
They actually think, yes, they think…
One of my complaints about China is how they simply don't think. They don't think about anything. If something has a procedure, and they've been told how to do it, then they do it, and do not deviate, even if it makes no sense at all. There too many examples to spend any time talking about them, but let's look at how the folks in a Lao hotel look at my stay here.
The hotel room has a few , but not quite enough electrical outlets. In fact, there is no obvious place to plug in the water kettle. So, I brought it into the bathroom, put it to the left of the sink, and plugged it in. I laid the Lao coffee next to it. Later, after taking a shower, I placed the towel on a hook on the wall, not in the laundry basket, where I had placed the towel from the night before.
So, these folks left the towel on the rack, assuming that I put it there for a reason, although the provided 2 fresh towels. The moved the water kettle out of the way of the sink, but left it near the outlet, and placed the coffee next to it. In other words, they thought about what I had done, and did their best not to put everything back, when I'd need to take it all out again the next morning.
Brilliant, simply brilliant. This is a brief look at what it is when a human thinks, and it's something that I have been missing for far too long.
Lunch
I wanted to eat lunch along the Mekong river, so after my errands, I walked the 1/4 mile journey to the river, and enjoyed a delicious Coconut shake, and Pad Thai with pineapple. Both of these were really tasty, and given that I had not been eating real food, they were that much better.
The Pad Thai was light, and the pineapple made it almost dance on my tongue.
The coconut shake was simply good, and tasty.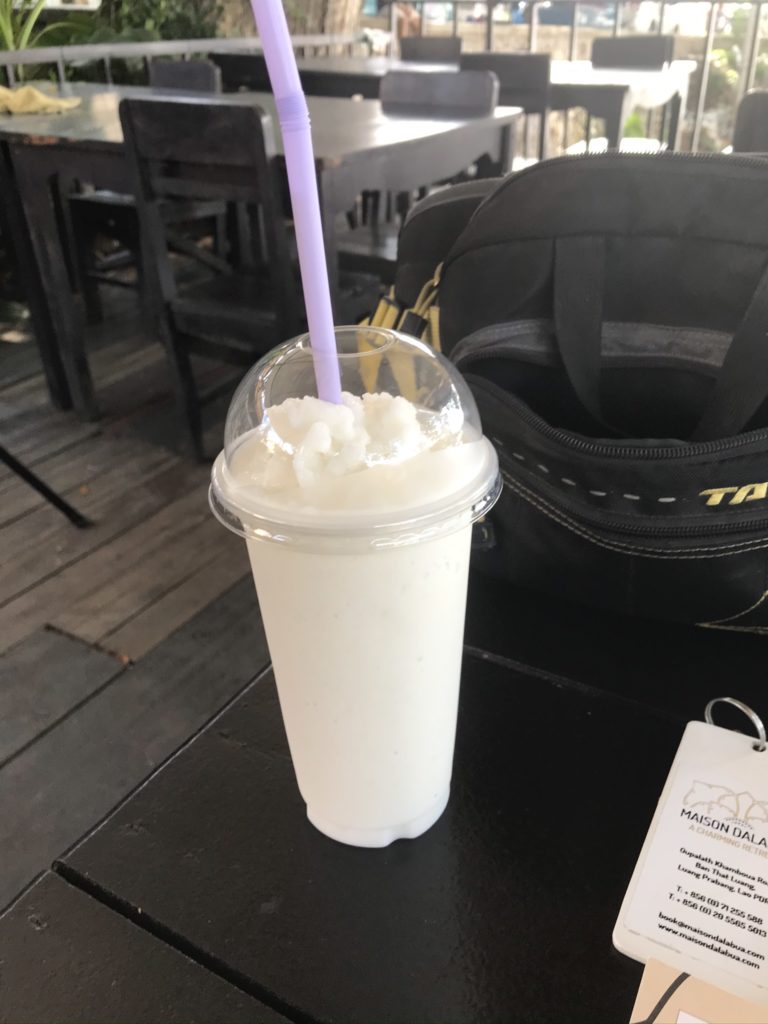 The Mekong River
During the Vietnam war, I remember being a small child, but often hearing about the Mekong delta, and how it played prominently in many battles, of that terrible war.
So, I had a chance to see the river, and get a flavor for what it represents, much further north, here in Laos. So, I walked along the river, and took a few videos and photos.
Return to the hotel
At about 2PM, I returned to the hotel, continued to clean up the Blog, and get ready for a nice dinner, at a French restaurant.
Dinner
Dinner this evening was at a French restaurant and it was pretty good. The cheese plate was amazing, and I had the Filet, with a creamy peppercorn sauce, also delicious.
After dinner, rather than walking back to the hotel, through the crowded marketplace, I decided to take a Tuk Tuk back to the hotel, just to get the experience.
Here is the video of the trip
VIDEO TUK TUK
What will tomorrow bring?
We're scheduled to leave at 7:30 tomorrow morning, and that is because our trip, although only 140 miles, is filled with activities along the Mekong river, and with the Elephants. More to come tomorrow.